Meeting content will be updated over the next months.
Context: the pace of change across the business landscape is accelerating and there is a need for all participants to be proactive.  But to be effective any actions will need to be taken in collaboration with other stakeholders so that we are building harmony across countries and industries, driving efficiencies and improving sustainability.  F&L invites diverse supply chain stakeholders across Eurasia to bring their key issues to the debate, propose ideas for mitigation, and discuss collaborative solutions for a way forward.
27-28 May 2021
Relationships and developments in international trade flows between Europe, Asia, CIS & Russia: what is the impact on the supply chain?
---
Practical discussions between supply chain and international trade stakeholders with manufacturers in the industrial and logistics heartland of the Baltic Region, crossroads of international trade between Europe, Asia, CIS and Russia.  Key themes include:
How we can create sustainable growth through 'harmonisation' (working together) within Europe, and with our partners in other continents?
Supply chain disruption – critical issues creating supply chain disruption and possible solutions: what can we do NOW to improve performance in road, rail, sea and intermodal?  Better harmonisation will improve trade flows; we look at some particular manufacturer examples and what is happening with transport modes in the wider region.  What will bring about change?
International trade flows with the Baltic region at the crossroads: understanding where we are and how the landscape will look in the future (three TEN-T cross this region within Europe).
Manufacturer global supply chains – how does the Baltic region fits in?
Dialogue: Europe's Green Deal
How do financial stakeholders assess international trade, global infrastructure and transport systems, and what influences their decision-making?
Ongoing F&L themes – e-leadership, diversity (all forms), "sustainability" of our business models
We encourage open conversations in an informal atmosphere and journalists are not permitted.
The conference will be a mix of keynotes (geopolitical background & market developments), manufacturer insights (expert illustrations of supply chain developments), panel discussions and breakout groups for deep dive.
The role of F&L speakers is to bring expertise and stimulate audience discussion, please check back frequently for further speakers who will be shown here.  We look forward immensely to welcoming:
Sauli Eloranta is Professor of Practice at VTT Technical Research Centre in Finland.  With a long experience of promoting technology and digitisation in industry and maritime transport, Sauli has been Head of Innovation and Technology at Kongsberg Maritime and was Chairman of the One Sea ecosystem.  He is member of the steering group of the Ministry of Economic Affairs and Employment's National Growth Programme for the Transport Sector and believes "industry and other stakeholders need co-operation in the field of technology R&D. The co-operation model of ecosystems can even beat major global players. The ecosystems need a unique and bold vision, which is not yet very common in today's business world".

Jürgen Hasler is Head of Mobility & Logistics at the Federation of German Industry (Bundesverband der Deutschen Industrie).  With a long career in supply chain, he now brings together manufacturer interest with politics.

Prof. Dr. Sebastian Jürgens is Managing Director of the Port of Lübeck (LHG), Germany's largest port operators on the Baltic Sea, and is responsible for sales and operations. Sebastian is Honorary Professor of Transport Logistics at the Technical University of Berlin and before that he was a member of the Executive Board of Hamburger Hafen Logistik AG (HHLA) responsible for the Logistics and Intermodal Divisions.  Prof Jürgens led the Intermodal division at Deutsche Bahn as a member of the Divisional Board and member of the Executive Board. After his second state examination in law and a doctorate in philosophy, Professor Jürgens began his professional career at McKinsey & Co and in a law firm.

Lars Koppelmann is Vice President Supply Chain Management & Logistics Procurement EMEA at INEOS Styrolution Europe.  With nearly 30 years of experience in the plastics industry in various roles which include sales and marketing, mergers and acquisitions and supply chain management, Lars has spent 4 years in Asia to deepen his understanding of Asian culture and supply chain issues in Asia, EMA and the USA.  He is currently guiding Ineos' supply chain through a rapidly changing global market environment.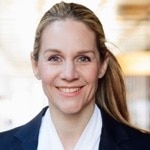 Dr Maria Meiler worked at the Boston Consulting Group before taking on senior management positions at Google and Experteer. She holds a doctorate in mathematics from the Technical University of Munich, and a Professional Coach certificate from the ICF Institute.  Maria now focuses on helping clients to perform in times where new ways of working, a strong and attractive company culture and the right 'digital' changes are making a tremendous difference.  She is co-founder of Consultport and CEO of Maria Meiler GmbH.

James Oates is CEO at Cicero Captial.  A 25 year investment veteran in emerging markets finance, he has experience with JP Morgan, Flemings, UBS, Lazard and UniCredit.  James is an active Adviser and Board Member of several European Fintech (using technology to make finance more efficient) companies, and has served as Advisor to several governments and stock exchanges in the region.  He is current President of the British Estonian Chamber of Commerce, and Honorary Consul of Croatia in Estonia. In 2007 he was decorated by the President of Estonia with the national order of the Cross of Terra Mariana.

Kustaa Valtonen is an entrepreneur and Angel Investor in Finland. He holds Board positions with many companies, runs his own private investment company, coaches startups on a regular basis and works closely with accelerator/incubator programs like Startup Sauna. One of his current projects is the FinEstBayArea which intends to deliver economic growth to the region.

Raivo Vare is an Estonian statesman, businessman, economics and international transport logistics expert, and former Minister of State and Minister of Transport and Communications.  Mr. Vare has been or is currently member / (Vice) Chairman of numerous state committees and commissions, delegations, Boards of Think Tanks, Universities and foundations, different associations and NGOs.  He has held or is currently holding several senior executive or non-executive managerial positions in different state-owned and private companies in areas of transportation and logistics, communications, real estate, agriculture, commercial banking, financial and technology investments and start-up ecosystem development.  Mr Vare is consulting and writing analyses and articles, and lectures primarily on international, Russian and Estonian affairs, economics, infrastructure, transportation and logistics. He has no political party affiliation.  Raivo holds an EMBA cum laude from the Estonian Business School and a law degree summa cum laude from Tartu University.

Peter Vesterbacka is a Finnish mobile game developer and brand director of the educational game company Lightneer.  He is known for his work on Angry Birds titles, startup event Slushin (gathering of 25,000 curious minds, including 3,500 startups and 2,000 investors) and for his current development project to construct significant infrastructure with the Helsinki-Tallinn tunnel and the four station areas in connection to the tunnel.
Erik Yim, Managing Director, Great Stone Industrial Park Development and Du Bao Zhong, President of China Merchant Logistics Park in Belarus.  Further information to follow.
Your ideas are very welcome on people whom you would like to hear speak.
Wednesday 26 May 2021
19:30 – Pre conference networking dinner (all welcome, informal dress)
F&L Arrivals Programme – During morning of Wed 26 May we have invited SAS and Air Baltic Management to meet us in Copenhagen (CPH) and Riga (RIX) airports for networking and discussion.  After this, F&L will be on the 14:00 flight to Palanga (PLQ) from Riga (RIX) and the 14:05 from Copenhagen (CPH).  Please book yourself a roundtrip to Palanga, and advise if you are coming via Warsaw or a different route.  For return flights on Friday 28 May, we will have you back at Palanga airport in plenty of time for 15:10 flights to RIX and 16:45 to CPH.
Thursday 27 May 2021

10:00 – 17:00 Conference is located in a former Soviet tobacco factory which provides a fantastic space for manufacturer-led sessions, expert illustrations of supply chain developments, panel discussions, breakout groups and workshops, and a keynote on geopolitical background and market development.
19:30 Dinner (all welcome, venue will be advised)
22:30 "After Party" (all welcome)

Friday 28 May 2021
09:30 – 14:00 Conference and lunch (optional breakfast and exchange with Lithuanian-Belarusian Forum to be confirmed)
14:00 F&L airport bus to Palanga International leaves conference in plenty of time for all international flights:
15:10 International flights depart from Palanga International to a host of destinations via Riga (RIX) and Warsaw (WAW)
16:45 International flights depart from Palanga International to a host of destinations via Copenhagen (CPH)
Spouses
Spouses/partners of participants are warmly welcomed to the dinners on Wednesday and Thursday evening, and we usually arrange a tour for spouses on Friday morning.  
Who is this meeting for?  On 27-28 May 2021, the international F&L Forum will hold a Baltic Region meeting for senior decision-makers in global manufacturing, logistics companies (road, rail, sea, waterways, air), academia, policymakers and science.  
---
Why is this international group coming to the Baltic Region?  

The Baltic Region countries (Denmark, Estonia, Latvia, Finland, Germany, Lithuania, Poland, Russia, and Sweden) are at the crossroads of intercontinental trade flows between Europe, Russia and CIS, and Asia.  

Manufacturers rate this region as the most attractive in Europe (second only to China in the world).  

Estonia and Denmark lead Europe in digitalisation expertise; we want to learn. 

We would like to expand our networks and thinking. 

F&L member organisations are from varied

industry sectors across Europe 47 countries; the Baltic Region is part of Northern Europe.
---
Why should I attend?  Discussing trade and supply chain strategy together in an open, professional and social atmosphere so that we can listen and learn from each other is a strong fundament for further growth.  
---
What is F&L?  F&L is an active international non-profit Forum.  We bring a diverse range of stakeholders across Council of Europe 47 countries to discuss international trade and the global supply chain.  We do not lobby, as that would imply that there is one right answer.
---
What can I expect?  You will not hear speakers trying to sell, or sharing long complex plans for their company's development.  You will:
Listen and contribute to open discussions throughout the meeting (no-one can be quoted outside the room).

Be welcome to contribute your ideas and questions throughout.  This is a meeting where the audience contributes as much to the debate as the speakers do.

Engage in informal networking with senior business leaders.
---
Is there anyone who may not attend?  Journalists and press are not permitted because discussions are open throughout the meeting. 
---
Catering and transfers – dinners Wed 26th and Thursday 27th, lunches Thursday 27th and Friday 28th and various coffee breaks are included in the conference for all participants.  Where conference venues are not within walking distance, transfers are provided.  
---
Costs per person 
€400 member companies

Non-members are usually asked to contribute a sum up to €1,250 (F&L is not-for-profit)

Sponsors have separate arrangements 

€0 manufacturers attending for the first time
Please ask if you are unsure.  
Location – you will join us in Klaipėda, a charming city in Lithuania with strong manufacturing traditions, a highly educated workforce and core TEN-T status.


Flights – Klaipėda is easily reached with flights to Palanga International Airport (PLQ), which usually stop briefly in Riga, Copenhagen or Warsaw.  
F&L International Arrivals Programme – During morning of Wed 26 May 2021 we have invited SAS and Air Baltic Management to meet us in Copenhagen (CPH) and Riga (RIX) airports for networking and discussion.  After this, F&L will be on the 14:00 flight to Palanga (PLQ) from Riga (RIX) and the 14:05 from Copenhagen (CPH).  Please book yourself a roundtrip to Palanga, and advise if you are coming via Warsaw or a different route.  (For return flights on Friday 28 May 2021, we will have you back at Palanga airport in plenty of time for 15:10 flights to RIX and 16:45 to CPH).
Boutique hotel accommodation is booked across the city, all within a short walk. You will receive a warm welcome, good prices and individually-styled rooms with plenty of character.  Reservation info will come.

This list is coming soon; please check back. In the meantime, the participants of F&L's meeting held in November 2019 represented business leaders in:
A2B Online Container
Air France KLM Engineering & Maintenance
ALIS (Logistic Association of Sustainable Intermodality)
Alpega
Amber Road
Arcese Trasporti
AVR
Baltic Rail
Beiersdorf
Bertschi
BillerudKorsnäs
Billiet & Co
BJ Solutions
BLS Cargo
Bulk Logistic Solutions
Burgo Group
C. H. Robinson Europe
Cabot Corporation
Cargill
Catts
Chemical Express
CHEP Europe
CLdN Cargo
Combined Cargo Terminals
Coty
Covestro
DFDS Logistics
DHL Global Forwarding
Direct Rail Services
e-Track
ECS European Containers
Electrolux Italia
European Rail Freight Association (ERFA)
Fahrzeugwerk Bernard Krone
Fercam
Finnlines
Francesco Parisi Group
Freight Leaders' Council Italy
Gaisre
Geba Trans
Government Italian Republic
Grimaldi Group
Hafen Hamburg Marketing
Hannibal
HHLA Estonia
Hupac Intermodal
I-Net
i-Point Systems
Ineos Styrolution Europe
Intesa Sanpaolo
Invista Resins & Fibers
Klaipėda Free Economic Zone
Klaipėda ID
Kuehne Logistics University
Kühne + Nagel Estonia
KWS
Lineas
LKW-Walter International
Logex
LyondellBasell
Mars
MBS Logistics
MIC
Mondi Group
Move Intermodal
N+P Group
Neste
NewOpera
Novigo
Orpic
Perstorp
Plymouth University
Port of Antwerp
Port of Valencia
Ports of Naples & Salerno
Pronk Consultancy
Propeller Club
Rhenus Port Logistics
SABIC Petrochemicals
Samskip Multimodal
SAP
SBB Cargo International
Scania
Signify
SKF
SRM Maritime Observatory
Stena Line
Stora Enso
Tim Consult
Tracks
Transfesa Logistics
Transped Europe
Transporeon
TT Club
UIRR
Unit 45
Universidad de los Andes
Ventura
Veroo
ViiA
Vlantana Group
Vos Bulk Logistics
VTG Rail Europe
World Economic Forum
World Food Programme
Yara
With grateful thanks to sponsors:
Further sponsors for this important event will be announced.