"Sustainability" – 
the long view
Context:
What do past developments in logistics teach us about how we prepare for the future?  And how do today's business leaders ensure their companies play a role in tomorrow's world for the benefit of customers, employees and shareholders whilst successfully navigating international supply chains?  

Numerous game-changers challenge international supply chain business leaders. 

Within the twin themes of "challenges of the turbulent global geopolitical climate for the supply chain"' and "sustainability" in the broadest sense (more than environmental), leaders discuss what is important, what's next and what we can learn from industry leaders about how to respond? 

THURSDAY 14 NOVEMBER
---
11:15 – 12:45
Registration, networking and conference lunch
---
12:45 – 13:05
Welcome

John Riley President F&L / Asset Productivity Director CHEP
Massimo Deandreis General Manager SRM INTESA SANPAOLO
Umberto Masucci President PROPELLER CLUB
Pietro Spirito President PORTS OF NAPOLI AND SALERNO
---
13:05 – 14:00
Setting the twin themes: what do we see, what's the outlook, what are the real issues?

The "Big Three" moderated by Rod Franklin Adjunct Professor of Logistics and Academic Director Executive Education KLU
 Margi van Gogh Head of Supply Chain & Transport WEF
 Massimo Deandreis General Manager SRM
---
14:00 – 15:00
Bringing today's issues to life.  Practical examples from some industry sectors under pressure: what do supply chain leaders need to consider?
Guido Grimaldi Corporate Commercial Director of Grimaldi Short Sea Shipping,Finnlines, Minoan Lines and Malta Motorways of the Sea GRIMALDI GROUP / President ALIS
---
Actors in the supply chain, Jörg Walden CEO and Founder i-POINT SYSTEMS
The world of waste, Rick Martens Development Manager Logistics N+P GROUP
Plastic is a good invention, Theo Zwygers Supply Chain Advisor ORPIC
To hell with the consequences – I want it faster/better/cheaper, Massimo Marciani President FREIGHT LEADERS' COUNCIL

                                    
---
15:30 – 16:45
Sustainability in the procurement decision.  What, when and how much can energy transition, truck manufacturing, big data and relevant legislation contribute to improved sustainable mobility?
Yesterday, today and tomorrow, Krzysztof Szmidt Transport & Logistics EMEA Lead CARGILL, F&L Think Tank (session moderator)
Dialogue will focus on what the journey looks like before we reach "mobility el dorado"

Daniel Persson Global Account Manager SCANIA
Mats Johansson Head Global Land Logistics NESTE
Philippe Billiet Lawyer BILLIET & CO
Rod Franklin Adjunct Professor of Logistics and Academic Director Executive Education KLU
---
16:45 – 18:00
The future supply chain.  A quarter of the world's population are 'millennials' (born 1981-1996). The dominant generation of the post-financial crisis era, this generation is forecast to make up 35% of the global workforce by 2020. What can we learn? Let's discuss.
Interactive panel discuss what they see as key issues with the audience, moderated by Berit Hägerstrand-Åvall Vice President Divisional Logistics STORA ENSO and Bart Jongen Supply Chain Flexpert AIR FRANCE KLM ENGINEERING

Martin Neumann Transportation Controlling Manager Europe COTY
Thorsten Schmidt Vice President NOVIGO
Jakob Muus Founder & CEO TRACKS
Vainius Gulbinas Sales Manager GAISRE
Julia Pfaffengut Global Project Management Talent SIGNIFY
Stavros Karamperidis Maritime Economics PLYMOUTH UNIVERSITY
Aleksandra Stępień Data Management CHEP
---
18:00 – 18:15
Close of Day 1
---
19:30 – 22:30
Evening Dinner generously sponsored by Grimaldi and ALIS
19:30 buses leave Renaissance Hotel (meet in lobby)
---
FRIDAY 15 NOVEMBER
08:30- 09:00
Short F&L updates
F&L trade compliance workshop
Rail: Tony Berkeley Board Member ERFA and Ralf-Charley Schultze President UIRR
Update Christoph Matulla Head of the Climate Impact Team ZAMG
New F&L workstreams
---
09:00 – 11:00
International trade: understanding and capitalising on global opportunities  
(09:00 – 09:45) Europe's evolving trading relationship with China and BRI; implications for the structure of international trade in the future?  Professor Michele Geraci International Trade Economist, Former Under-Secretary of State, Ministry of Economic Development GOVERNMENT OF THE ITALIAN REPUBLIC                                           
---
(10:15 – 11:00) Assessing and managing risk in the world's most volatile environments; the role of the private sector and why it needs to stay.  Stephen Cahill Director Logistics WORLD FOOD PROGRAMME
---
11:00 – 12:15
Synchromodality.  Supply chain transparency benefits all stakeholders but what can we expect from different players in the entire process, today and tomorrow? Can we agree a future roadmap? Who needs to deliver what to whom to make this happen?
Brief descriptive presentations

ETA for road Christian Pfeifer Head of Operations VEROO
ETA for intermodal Aldo Puglisi Digitalization and Business Processes Reengineering HUPAC INTERMODAL

Panel debate with audience moderated by Serge Schamschula Group Head Strategic Marketing TRANSPED
Christoph Widmer Transportation Manager (EMEA) CABOT
Armin Musija Manager Strategic Initiatives TRANSPOREON
Christian Pfeifer Head of Operations VEROO
Wim Feys Director CH ROBINSON EUROPE
Aldo Puglisi Digitalization and Business Processes Reengineering HUPAC INTERMODAL
---
12:15 – 12:45
Next steps – what have we learned from each other?  
Panel of youth and experience chosen during conference.  Chaired by Philip Evans Secretary General F&L and Gavin Roser Ambassador-at-Large F&L
---
12:45
Close of meeting 
---
12:50 
Lunch
---
Conference location: Intesa Sanpaolo, Via Toledo, 177, 80132 Napoli, Italy.  
With thanks to
---
F&L's conference begins with lunch Thursday 14 and finishes with lunch Friday 15th November, however there are wider networking and learning opportunities:
Wed 13 November 2019 
From 19:30
Neopolitan pizza and relaxed networking

Thursday 14 November 2019


09:00 – 11:30
WORKSHOP – Trade Compliance.  Discussion with market leaders.  Please assemble ready to leave F&L hotel lobby at 08:45.
08:30 – 11:30
Tour of historical Naples (departs from hotel at 08:30 and finishes at hotel 11:30).  Tour will go at the pace of each group, and aims to cover the Cathedral, Via dei Tribunali, San Gregorio Armeno, Spaccanapoli, Santa Chiara, Gesù Nuovo and even perhaps a shortened tour of the underground city of  San Lorenzo.   Please assemble ready to leave F&L hotel lobby by 08:30.  
11:15 – 12:45
Security passes, registration and lunch
12:45 – 18:15
F&L conference Day 1
19:30
Networking dinner generously sponsored by Grimaldi Group and ALIS (buses leave hotel at 19:30)
Friday 15 November 2019
08:30 – 12:45 
F&L conference Day 2
12:45 – 13:45
Lunch for all conference participants
09:00 – 15:00
Partners & spouses: visit to the amazing ruins of Pompei.  You will depart from the hotel around 09:00, returning by 15:00.  Lunch will be provided at Pompei.  

What else to see?
Many of our group will remain in Napoli after the conference and you may wish to enjoy some of the wonderful places that Napoli offers.  We are happy to put you in touch with others doing the same thing (please ask!):
Travelling to Naples
PLANE Naples International (NAP) is approx 20 minutes by car from the F&L hotel (see 'Register' tab) plus traffic. Or fly into Rome–Fiumicino "Leonardo da Vinci (FCO) or Rome Ciampino (CIA). Fiumicino is connected to the train network, but you need to change at Roma Termini to take the high speed train to Napoli.
TRAIN Book high speed train tickets.  Journey time from Roma Termini or Tiburtina to to Napoli Centrale 70 minutes.  Many other Italian cities are connected to the high speed network.
CAR If you are staying at the F&L Marriott hotel, you can park for €22 per day.  Hotel address for car navigation is Renaissance Naples Mediterraneo, Via Ponte di Tappia 25, Naples, 80133.
PHILIPPE BILLIET
Lawyer, Arbitrator and Mediator
BILLIET & CO, KA LEGAL
Philippe Billiet obtained his LLM in International Economic Law at the University of Warwick and frequently works in commercial and economic legal matters with a diplomatic dimension. He is a lecturer on law topics at Brussels VUB University and was one of the first mediators to obtain EMTPJ mediator certification. Philippe is a member of the Advisory Board of the Brussels Diplomatic Academy and is registered as an arbitrator / mediator with numerous institutions worldwide. He has numerous prizes and awards from different legal directories for the provision of excellent legal services, and works in Dutch, French, English and German.
STEPHEN CAHILL
Director of Logistics
WORLD FOOD PROGRAMME
Stephen Cahill is Director of Logistics at the World Food Programme; the leading humanitarian organization delivering food assistance in emergencies and working with communities to improve nutrition and build resilience. Helping currently 86.7 million people in around 83 countries each year, the WFP has 5,000 trucks, 20 ships and 92 planes on the move every day. Stephen will be talking about risk in the most challenging of situations, and the role of the private sector.
MASSIMO DEANDREIS
General Manager
SRM
Massimo Deandreis is General Manager at SRM, an Economic Research Centre related to the Intesa Sanpaolo Banking Group. He is currently President of GEI, the Italian Society of Business Economists, and Professor of Business Management at University of Turin. He has worked as Researcher at Centro Einaudi in Turin and the European Association of Regional Financial Centres (ACRFRE), collaborating with the OECD. He lived in Brussels for 5 years, working as Head of the Piemonte delegation to the EU and has been General Director of the Piemonte Regional Chamber of Commerce for eight years.
WIM FEYS
Director
CH ROBINSON EUROPE
Wim Feys is Director at the world's largest logistics platform which holds relationships with more than 124K customers and 76K contract carriers. Wim has been with CH Robinson for over 16 years and is responsible for the offices in France and Spain, leading a €150M business. He is a member of the EU Executive Team for Road Transportation and has a long history in the industry (CFO and MD).
ROD FRANKLIN
Adjunct Professor of Logistics andAcademic Director of Executive Education,
KLU
Rod Franklin is an engineer and operations manager by training and experience, and received his Doctorate in Management from the Case Western Reserve University in Cleveland, Ohio. Professor Franklin has held management positions at Kühne + Nagel, USCO Logistics, ENTEX Information Services, Digital Equipment Corporation, and Cameron Iron Works. He has been a consultant for Booz-Allen & Hamilton, Theodore Barry & Associates and Arthur Young & Co and was a development engineer for the Saginaw Steering Gear Division of General Motors Corporation. His research focuses on the application of modern management techniques to the efficient and effective operation of supply chains, sustainable business models, green logistics, corporate social responsibility and cloud-based supply chain management.
MICHELE GERACI
International Trade Economist, Former Under-Secretary
of State and Ministry of Economic Development
GOVERNMENT OF THE ITALIAN REPUBLIC
Professor Michele Geraci is International Trade Economist, Former Under-Secretary of State and Ministry of Economic Development Government of the Italian Republic. He has been Head of China Economic Research Program at Nottingham University Business School, China, Head of China at the Global Policy Institute, and Adjunct Professor of Finance at New York University, Shanghai and at Zhejaing University. He has lived in China since 2008 and his work was aimed at governments, corporations and investors, offering practical-oriented policy recommendations and investment advice. Topics of interest include monetary policy, income disparity, migration, urbanisation and European crisis, international trade, M&A.
Michele is a frequent guest speaker at conferences and forums, a host of TV shows and a regular contributor to China Daily op-ed as well as a columnist for Caixin Magazine and IlSole24Ore / Radiocor. He has been awarded the title of Knight of the Order of the Star of Italy, and is author of a documentary on China's economy. He has recently launched a popular blog to enhance the knowledge of China amongst European policymakers,enterprises and general public.
VAINIUS GULBINAS
Sales Manager
GAISRE"
Vainius Gulbinas is Sales Manager at Gaisre which provides international freight services to a wide client base (liquid,packaged and bulk cargo). Gaisre prides itself on its professional team, consistent work, and efforts towards constant improvement. Vainius has been with Gaisre for over a decade.
MATS JOHANSSON
Head of Global Land Logistics
NESTE
Mats Johansson is Head of Global Land Logistics at Neste, the world's current most sustainable energy company (Global 100 List) and future global leader in renewable and circular energy solutions. Mats leads Neste's growing global land logistics team to provide competitive advantage and enable business growth, and has previous experience leading Neste's transportation operation. He has previous senior management roles in Oy TransAtlantic, Containerships and SeaRail.
STAVROS KARAMPERIDIS
Maritime Economics
UNIVERSITY OF PLYMOUTH
Stavros Karamperidis is Maritime Economics Lecturer and MSc Program Director in International Logistics and Shipping. He is currently lecturing in maritime economics at the University of Plymouth, and was previously lecturing in shipping and international logistics at Herriot Watt University in Scotland. Stavros is guest lecturer at Newcastle University, and has a PhD in Maritime Logistics with the Global Logistics Research Group at the School of Marine Sciences and Technology at Newcastle.
MASSIMO MARCIANI
President
FREIGHT LEADERS' COUNCIL
Massimo Marciani is a sustainable mobility expert and President of the Freight Leaders' Council as well as Chairman of his own company. He has 25 years of experience in complex national and international project management, a strong technical background and a sensitivity in the development of new services and deployment of new markets. He is keynote speaker, presenter, moderator and organiser of conferences as well as frequent contributor to articles.
RICK MARTENS
Development Manager Logistics
N+P GROUP
Rick Martens is Development Manager Logistics at N+P GROUP which strives to work in an innovative way for a cleaner environment. At N+P Group, waste is converted into alternative fuels and raw materials. Rick has been with N+P for 13 years and holds a Bachelor's Degree from NCOI Opleidingen as well as a logistics qualification from Fontys Hogeschool Venlo.
ARMIN MUSIJA
Manager Strategic Initiatives
TRANSPOREON
Armin Musija is Manager Strategic Initiatives at TRANSPOREON, the cloud-based logistics platform. He has enjoyed Transporeon for 8 years and has previous experience as a Category Expert Logistics with Kronotec. Armin holds a Mag. in Logistics, Materials, and Supply Chain Management from the Vienna University of Economics and Business Administration.
JAKOB MUUS
Founder and CEO
TRACKS
Jakob Muus is Founder and CEO at Tracks which offers predictive fuel analytics to help the road freight industry. Tracks uses machine learning methods to analyze data from trucks and their environment to predict fuel consumption and create visibility of the factors that impact on each truck's costs. On a mission to make the road freight industry cleaner, safer, and more efficient, Jakob has previous experience with Volkswagen in roles including Location Manager and Futurist and Trend Forecaster.
MARTIN NEUMANN
Transportation Controlling Manager Europe
COTY
Martin Neumann is Transportation Controlling Manager Europe at Coty, one of the world's largest beauty companies with approximately $9 billion in revenue. Martin has previous experience at DB Cargo as Corporate Project Manager, and studied at Johannes Gutenberg University, from which he holds a Diplom-Handelslehrer in Business Education.
DANIEL PERSSON
Global Account Manager
SCANIA
Daniel Persson is Global Account Manager at Scania, a leading supplier of solutions and services for sustainable transport as well as engines for industrial and marine applications and power generation. Daniel has comprehensive knowledge and experience of working with user experience and product features for consumer products, with over ten years in various positions working with passenger cars as well as buses and trucks from a driver's perspective. This competence combined with project management experience from the IT industry is a solid basis for matching customer product needs with the right technical solutions both in economical and technical terms to create challenging and innovative product roadmaps.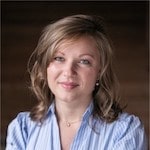 JULIA PFAFFENGUT
Global Project Manager Talent and Organizational Development
SIGNIFY
Julia Pfaffengut is Global Project Manager Talent and Organizational Development at Signify (formerly Philips Lighting). She is inspired by constructive co-operation and intellectual challenges and has a decade of experience with the Philips and Signify companies.
CHRISTIAN PFEIFER
Head of Operations
VEROO
Christian Pfeifer is Head of Operations at Veroo, a data-driven performance enabler which uses algorithms based on experience, know-how and mass of real-time data to calculate ETA. ETA is a summary of 50 key factors including real-time traffic, loading and unloading times. Christian was formerly Head of External Business Applications, and Online Marketing Team Lead at LKW WALTER.
ALDO PUGLISI
Digitalization and Business Processes Re-engineering
HUPAC INTERMODAL
Aldo Puglisi is responsible for Digitalization and Business Processes Reengineering at Hupac Intermodal. Aldo holds an MSc in Computer Engineering from Politecnico di Milano, and a Master of Business Administration from MIP-Politecnico di Milano School of Management with a focus on Corporate Finance.
THORSTEN SCHMIDT
Vice President
NOVIGO
Thorsten Schmidt is Vice President at Novigo which enables clients to uncover benefits of SAP's transportation management application platform while transforming their supply chain execution organizations. Previously, Thorsten was Consulting Manager and Business Unit Lead. He has an MSc in Information Management and Consulting.
ALEKSANDRA STĘPIEŃ
Data Management
CHEP
Aleksandra Stępień describes herself as a 'tech-savvy professional with a huge interest in international business, leadership and sustainability'. She has worked and studied in ten countries with an EPAS accredited European Master's Degree in Business Studies.
MARGI VAN GOGH
Head of Supply Chain & Transport
WORLD ECONOMIC FORUM
Margi van Gogh is the Head of Supply Chain & Transport at WEF which connects communities of leaders around global issues through high-level meetings, research, initiatives and digital networks. Margi is a facilitator of and an advocate for harnessing relevant data-insights, leveraging experiential shared learning. She is an experienced international citizen, collaborative business leader and has a proven ability to deliver positive change and strategic growth through identifying and motivating exceptional individuals to become contributors to highly engaged globally successful teams. Margi has experience in the healthcare, retail and global service and supply chain sectors and she is fascinated in how we can leverage collective knowledge and positive energy to serve better tomorrow than we do today.
JÖRG WALDEN
Chief Executive Officer and Founder
IPOINT-SYSTEMS
Jörg Walden is CEO and Founder of iPoint-systems, a leading provider of software and consulting for sustainable products, value chains and brands. The focus is to collect, process, and utilize product-related compliance and sustainability data from and for the entire product life cycle. Jörg is responsible for business strategy, product strategy, and innovation management and is a serial entrepreneur with 30 years of experience in the technology industry (leadership, executive management and software development roles).
CHRISTOPH WIDMER
Transportation Manager EMEA
CABOT
Christoph Widmer is Transportation Manager EMEA at CABOT, leading global specialty chemical and performance materials company. Christoph has previous experience with Dachser and Fracht. He holds a Master's degree in Supply Chain and Operations Management from ZAHW as well as a Bachelor's from KS Kaderschulen St Gallen.
THEO ZWYGERS
Supply Chain Advisor
ORPIC
Theo Zwygers is Supply Chain Advisor at ORPIC, one of Oman's largest companies and a rapidly growing businesses in the Middle East oil industry. Orpic's refineries, logistic facilities as well as the aromatics and polypropylene plants provide fuel, chemicals, plastics and other petroleum products to Oman and the world. Theo has many years of experience in the supply chain industry and is assisting Orpic in setting up business models, office footprint and the logistics and distribution platforms for a new petrochemicals project producing 1.2 million tons of PP & PE.
Napoli is the home of the Grimaldi Group which was founded in 1947.  With worldwide shipping and logistics operations, we are delighted to be working with this innovative company.  Grimaldi specialises in roll-on/roll-off vessels, car carriers and ferries. It is a dedicated supplier of integrated logistics services based on maritime transport to the world's major vehicle manufacturers. Through its maritime services, the Group transports cars, any type of rolling cargo, containers, palletised/unitised cargo and passengers.
ALIS is the Logistics Association of Sustainable Intermodality.  Based in Italy, it 'gives voice' to the intermodal logistics sector. Two years after its foundation A.L.I.S. is a network that counts more than 1,510 members companies, over 165,000 workforce units, a fleet of over 110,000 vehicles with more than 140,500 annual maritime connections and more than 125 Motorways of the Sea, more than 60,500 annual train connection, more than 120 train lines and 23 billion euros of aggregate revenues.
SRM is a Centre for Economic Studies and Research.  It analyses the Italian regional economy from a European and Mediterranean perspective, with a special focus on Southern Italy's economic, entrepreneurial and social tissue.  The group is connected across the world with maritime experts and organisations and publishes reports and studies for the business and academic community on a regular basis.
Port of Valencia sponsors our networking coffee break on Thursday at the conference. Largest seaport in Spain and in the Mediterranean Sea basin, the Port is the fifth busiest seaport in Europe. The port is working on its Port Community System tool to enable transparency and information to all end clients.
 
Transporeon boosts logistics performance and profitability with every freight load. Founded in Germany in 2000, Transporeon connects a worldwide network of more than 1,200 industrial shippers and retailers with over 90,000 logistics service providers in 100+ countries in real time. Its security-certified platforms offer digital solutions for freight benchmarking and sourcing, freight assignment and shipment execution, time slot management, shipment tracking, and end-to-end supply chain visibility. By leveraging the latest capabilities, including artificial intelligence and predictive analytics, Transporeon solutions cut CO2 emissions, empty runs and truck waiting times while digitizing manual processes. Transporeon is located across Europe, Russia, Asia and the US.