F&L's conference begins with lunch Thursday 14 and finishes with lunch Friday 15th November, however there is a wider programme for those who can join:
Wed 13 November 2019 
From 19:30 – fine Neopolitan pizza and relaxed networking while watching the lights of Capri across the Bay of Naples

Thurs 14 November 2019
09:00 – 12:00 Workshops and visits will be announced shortly
12:00 – 13:45 Security passes, registration and lunch
13:45 – 17:30 F&L Conference Day 1
19:45 Networking dinner generously sponsored by Grimaldi Group at Villa Diamante in Napoli (buses leave hotel at 19:00)
Fri 15 November 2019
09:00 – 12:30 F&L conference Day 2
12:30 – 13:30 Lunch for all conference participants
(Morning programme organised for accompanying spouses and partners)
Travelling to Naples
PLANE Naples International (NAP) is approx 20 minutes by car from the F&L hotel (see 'Register' tab) plus traffic. Or fly into Rome–Fiumicino "Leonardo da Vinci (FCO) or Rome Ciampino (CIA). Fiumicino is connected to the train network, but you need to change at Roma Termini to take the high speed train to Napoli.
TRAIN Book high speed train tickets.  Journey time from Roma Termini or Tiburtina to to Napoli Centrale 70 minutes.  Many other Italian cities are connected to the high speed network.
CAR If you are staying at the F&L Marriott hotel, you can park for €22 per day.  Hotel address for car navigation is Renaissance Naples Mediterraneo, Via Ponte di Tappia 25, Naples, 80133.  (The link to book discounted hotel rooms in the Marriott will be sent automatically when you click 'submit' on the 'register' tab. 
Agenda
The conference will focus on 'the long view'; how much has changed and how do we develop intermodal supply chains under pressure from all stakeholders?  Guided by thought-leaders, we look at continuing our discussions on three themes:
Sustainability in the procurement decision 'You did not act in time' says Greta Thunberg. Expert panel including leading truck manufacturer, multinational oil and gas company, global shipper, legislator and expert in IT and data will debate what, when and how much we can improve sustainable mobility – what is coming and where should we invest?  Time is planned for dialogue with the audience.
Game changers in the battle to keep the supply chain seamless Following on from Hamburg, we debate game changers including the belt and road initiative, diversity of all types,  IMO 2020, supply chain visibility, geo-politics affecting trade,  future networks and more.  Speakers will be announced.
Industry The focus of this session will be announced shortly, however Stephen Cahill Global Logistics Cluster Coordinator at the World Food Programme will be discussing risk and how the private sector can benefit from participating in the most challenging locations.  
Please note – we are still in discussions with members and speakers; changes and updates to the agenda will be made on this page frequently.  Closer to the conference the finalagenda will be available in pdf format.
Conference location: Intesa Sanpaolo, Via Toledo, 177, 80132 Napoli, Italy (2 minutes' walk from the F&L hotel – see 'register' tab).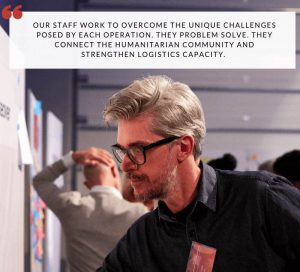 Steven Cahill is Global Logistics Cluster Co-ordinator at the World Food Programme, the leading humanitarian organization delivering food assistance in emergencies and working with communities to improve nutrition and build resilience.  Helping currently 86.7 million people in around 83 countries each year, the WFP every day has 5,000 trucks, 20 ships and 92 planes on the move.  Stephen will be talking about risk in the most challenging of situations and the role of the private sector.  In WFP, Stephen has been in his current role for 9 years and was previously Head of Shipping Operations.  Before his work with W
While we build our list for Napoli (available in Autumn), here are the companies who joined us in Hamburg in May this year:
A2B Online Container
AB InBev
Abbott
Air France / KLM Engineering & Maintenance
Alpega Group
Anderson Strathern LLP
Arcese Trasporti
Archer Daniels Midland Company
Aurora Snowbox
Aurubis
Baltic Rail
Beiersdorf
Bertschi
BillerudKorsnäs
BLS Cargo
Boston Consulting Group
Bundesanstalt Technisches Hilfswerk (THW)
Cargill
CFL Multimodal
CG Power Systems Belgium
ChemOil Logistics
CHEP Europe
CLdN Cargo
Combined Cargo Terminals
Containerships
Coty
Coupa
Covestro
Cranfield School of Management
DFDS
DHL Global Forwarding
Digital Innovation Hub, Hamburg
DKV Mobility Services
Doks-Innovation
Dow Chemicals
DP World Antwerp Gateway
e-track
ECS2XL
European Rail Freight Association (ERFA)
EverTracker
Fahrzeugwerk Bernard Krone
Federation of German Industries (BDI)
Fercam
Forward Cargo
Fraunhofer Institute Dortmund
Gartner
GEBA Trans
HaCon Ingenieurgesellschaft
Hafen Hamburg Marketing
Hamburg Port Authority
Hannibal SpA – Melzo
Hapag-Lloyd
Hartmann Group
I-Net
INEOS Styrolution Europe
INVISTA Resins & Fibers
ItsMyCargo
Kombiverkehr
Kuehne + Nagel
Kühne Holding
KWS Saat
LKW Now
LKW-Walter
Logenios
Logex
Logistik-Initiative Hamburg
M-Tribes
Mars
MBS Speditionsgesellschaft
Nacora
Nexiot
P&G
Paneuropa
Paroc
Plymouth University
Port of Antwerp
Port of Gothenburg
Port of Valencia
Reemtsma (Imperial Tobacco)
Royal Wagenborg
Russell Group
SABIC Europe
Samskip Multimodal
SAP
SBB Cargo International
ShareHouse
Siemens Mobility
Sirum
Sixfold
Stora Enso
TiM Consult
Tracks for Trucks
Trafikverket
Transfesa
Transped Europe
Transporeon
TT Club
UIRR
Unit 45
Universidad de Los Andes, Colombia
UPS
VIIA
Vlantana Group
Vlantana Norge
Vos Bulk Logistics
VTG Rail Europe
WMO (World Meteorological Organisation)
Yara
ZAMG (Austrian Institute Meteorology/Geodynamics)